Lake Titicaca

Area:
58,000 km²
Basin Countries:
Bolivia
Peru
Altitude:
3,812 m
Length:
190 km
Width:
80 km
Max Depth:
284 m
Surface area:
8,372,000,000 m²

Where is Lake Titicaca?
At 3,800 meters above sea level, Lake Titicaca is the world's highest navigable body of water. It's also the largest lake in South America, with a surface area of 8,372km2. Its location is somewhat peculiar – it lies astride the border of Peru (to the west) and Bolivia (to the east).
For this reason, Lake Titicaca can be easily accessed from two countries. The most popular entry point from the Peruvian side is Puno, while the city of Copacabana is a convenient choice when traveling in Bolivia.
They can both be reached by bus, car, and plane. Plus, a scenic train connection to Puno runs through some of the most beautiful Peruvian landscapes.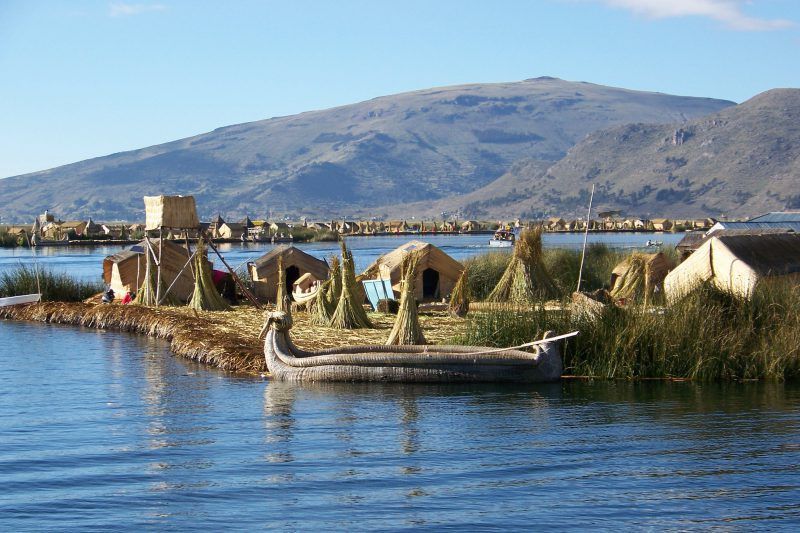 How to get in
Arriving at Lake Titicaca by bus is the most affordable option, but you'll need to brace yourself for a long drive and possible delays. Direct buses to Puno run from Lima, Arequipa, and Cusco; you can catch a direct connection to Copacabana from La Paz.
If you want to explore the lake from both countries, buses between Puno and Copacabana take around 4 hours (plus an hour or so at the border).
Getting to Lake Titicaca by plane is much faster but way more expensive than the bus (always the way, isn't it?). Note that Copacabana has its airport, but to reach Puno, you must fly to the nearby town of Juliaca and then take a taxi or bus.
And, of course, if you're feeling brave, you can also get to Lake Titicaca by car. Beware of the high altitude, though! Driving at over 4000 meters above sea level can be dangerous if you're not used to it.
There is no definite answer on how to best get to Lake Titicaca: it all depends on your budget, schedule, and travel style!

What to see at Lake Titicaca?
It is no surprise that a lake of this size boasts incredible biodiversity. Lake Titicaca is home to over 500 aquatic species, including the spectacular Puna ibis, charming Chilean pink flamingo, and a little less charming Lake Titicaca frog (it can weigh up to 3kg!).
Part of the lake is a protected area named Titicaca National Reserve. Thanks to the tremendous efforts at sustainable tourism, you can enjoy superb bird-watching and trekking opportunities here.
History
Fans of archaeology and history won't be disappointed. If you want to experience pre-Colombian South America, you can visit the ancient sites around the lake. The Colla people build impressive burial towers at Sillustani and Cutimbo.
In Ichu, you'll find a temple complex set on a hilltop with stunning views. And if you're dreaming of visiting the Khajuharo temple in India, famed for adult art, you can get a little preview at the Templo de la Fertilidad (actually not so little, you'll see what I mean).
Lake Titicaca altitude
The surface elevation of Lake Titicaca's water is 3,812 meters / 12,507 feet. It means that all the hills and mountains you see around are higher than this.
If you want to visit the highest point of Lake Titicaca, you need to take a boat ride to Island Amantani. Here you will find the Pachamama mountain stretching up to 4130 meters / 13,550 feet. Expect to have amazing views overlooking the lake and its surrounding area.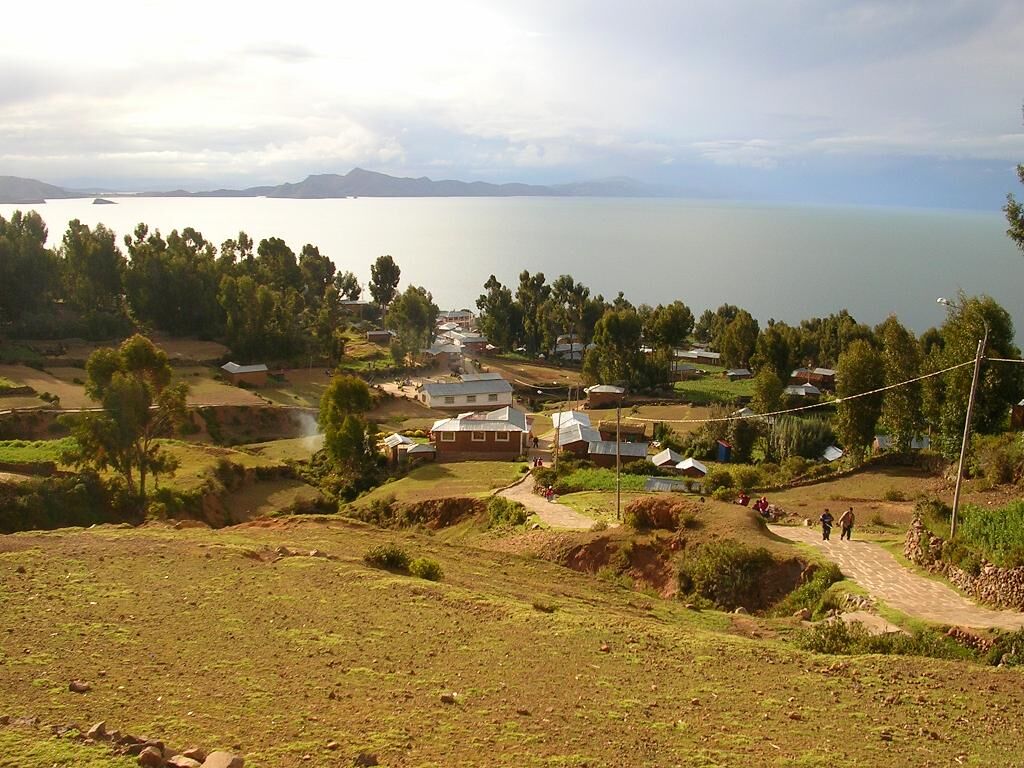 Legends
Lake Titicaca is a place filled with history, legends, and uncovered mysteries. According to Incan mythology, it's the birthplace of the first Inca king, Manco Capac.
Another myth says that the creator god emerged from Lake Titicaca before creating the Sun, Moon, and stars. Hence, the romantic nickname is 'the birthplace of the Sun'.
The mysterious lake has also received its version of the Atlantis legend – rumor has it that there is a lost city under the face of the water. Well… this one proved to be more than just an old wives' tale when the researchers found underwater ruins of an ancient temple at the bottom of the lake.
So who knows how many other secrets are still waiting to be uncovered?
Lakeside Towns
The towns on the shores of Lake Titicaca are more than just stopping points. Tourists tend to overlook Puno and head straight for the islands, but there's plenty to see there. If pastel colonial architecture is your thing, don't miss out on a stroll around this charming city.
Copacabana boasts an impressive Portuguese Basilica and a laid-back waterfront with views over the lake on the Bolivian side. Well worth a stop!
Islands
With all that said, the islands are the star attraction at Lake Titicaca. The floating islands (Islas Uros) are the most scenic with their signature reeds, homes, boats, and crafts.
Coming from the Bolivian side, your itinerary will be incomplete without visiting the spring of youth on Isla del Sol. For those interested in local arts, Isla Taquile is a real treat.
Here you can watch the indigenous people busy at work weaving and knitting traditional colorful garments. If there's one thing that you need to prioritize when visiting Lake Titicaca, it's the incredibly diverse islands with their unique communities and customs.
The people of Lake Titicaca – Uros
If you like breaking bread with the locals, you're in luck. At Lake Titicaca, there are plenty of opportunities to meet the islanders, the Uros indigenous people living here for hundreds of years, and experience their everyday lives.
With agrarian culture dating to pre-Columbian time, you might be forgiven for thinking that time has stopped on Lake Titicaca's islands. Choose an island homestay to enjoy your visit to the lake to the fullest.
At Isla Amantani, it involves helping with everyday tasks like cooking and participating in community activities such as traditional dances.
On Isla Taquile, you can watch the local crafts and perhaps even have a go at weaving yourself. Each island has its unique character and offers different activities.
Is Lake Titicaca Salty?
This is a widespread question, and the answer is more complicated than yes or no. See, the salinity of the waters of Lake Titicaca is about 5.5 parts per 1,000. Is this a high number? Not compared to seas.
The Mediterranean Sea has 38 parts per 1,000, the Red Sea has 36, and our oceans range between 34 and 36. The Baltic Sea is the least salty sea on Earth, at just ten parts per 1,000.
However, the salinity is much higher than in other lakes, with 0 to 0.5 parts per 1,000. So it's safe to say that Lake Titicaca will not taste like a sea but is slightly salty.
The historical explanation of why it's salty it's because it used to be saltwater. It sits in a sedimentary basin that used to be below sea level, uplifted as the Andes were created. The glacier water and the inflow of 27 rivers made it less and less salty over time.
When to go?
May to September (winter season) is the driest time, making it most convenient to visit Lake Titicaca. December to March (the summer season) is warmer, but there is also a lot more rainfall which can spoil your hiking and sightseeing plans.
To experience the famous Festival de la Virgen de la Candelaria (celebrated both in Puno and Copacabana), you need to schedule your trip for the first two weeks of February.
Looking for a combination of good weather and lower prices? Aim for the shoulder season – April and October don't see as much rain as the summer, and they tend to be less busy with tourists than the high season.
Weather
Lake Titicaca is located in the Alpine climate, with cold temperatures most of the year. In winter, subzero temperatures are not uncommon (especially at night), and even in summer, you'd be lucky to see above 15 degrees on the thermometer.
So don't be fooled by the 'summer season and bring warm clothes regardless of the month you visit.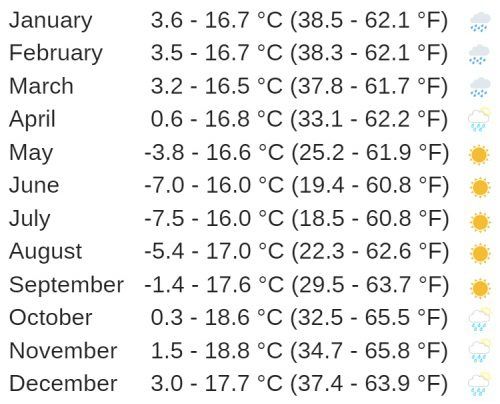 Water Temperature
Surface temperatures average 14°C (56°F), and temperatures are slightly lower at 11°C (52°F) at the bottom. You'll need to have some Wim Hof lessons not to be cold in the lake! Alternatively, take a wetsuit or try not to fall into the water.
Stay safe
Remember that the lake is set at a dizzying altitude (quite literally). If you don't want to succumb to altitude sickness, take things slow, and allow yourself time to acclimate.
Prevention methods include drinking a lot of water, steering clear of alcohol and cigarettes, and avoiding excessive exercise. You can also try a local altitude sickness remedy – coca tea. It will elevate the headaches and give you a kick of energy comparable to a cup of coffee.
Don't forget to stay on guard for pickpockets. Keep your valuables in a money belt and stay particularly vigilant in crowded places such as bus terminals or train stations. Also, remember that hostels are not always safe, so lock your possessions before leaving them in the room.