STAY IN PUNO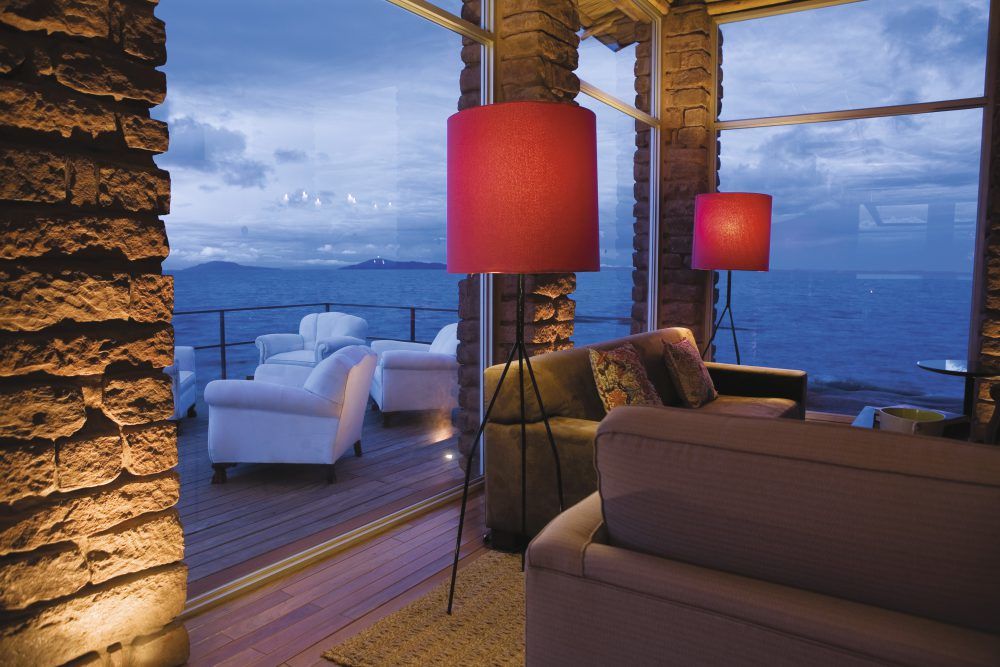 If you're looking for luxury accommodation around Puno, Titilaka is a fantastic choice. It's located on a remote private peninsula. This all-inclusive resort is well off the beaten path and has only eighteen rooms, so you're guaranteed peace and quiet.
Don't worry about the distance to Puno (an hour's drive) because meals, drinks, and excursions are already included in the price. The trips cover the islands and the sights on the shore, and there's an option to travel to the Bolivian side.
The rooms in Titilaka have a sleek modern design with a signature Peruvian touch – the colorful carpets, wall hangings, and pillowcases are authentic local crafts from the region. And, of course, there is the view. What more can you ask for than waking up to the shimmering Titicaca lake every morning?

Best Views – Mirador del Titikaka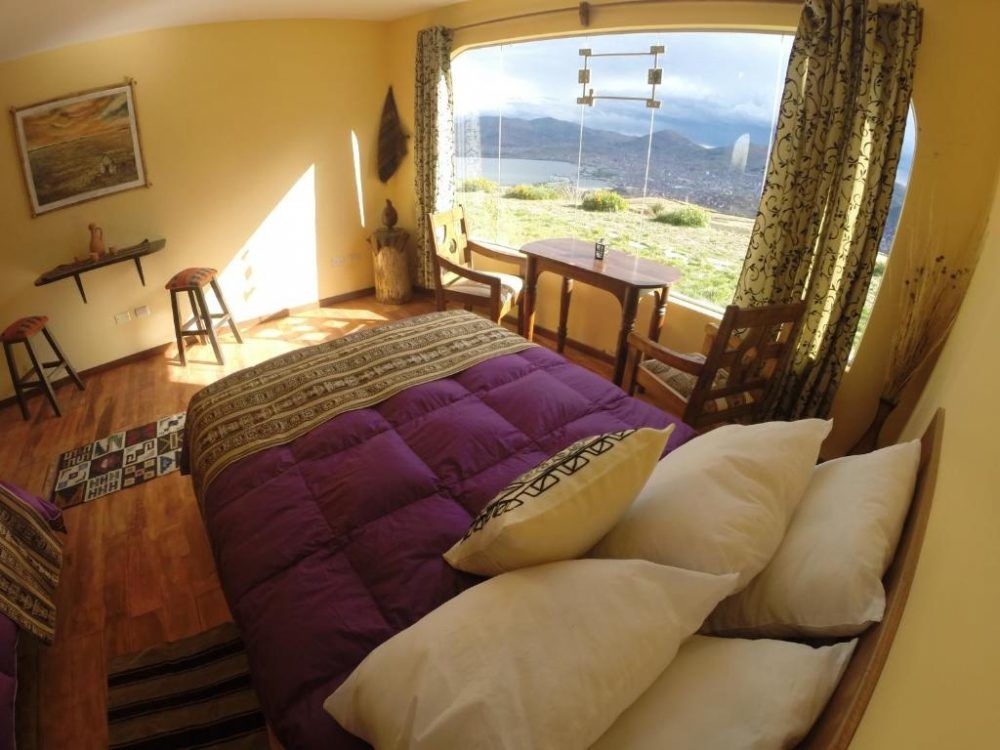 Mirador del Titikaka might not be an exclusive resort, but the views are 5-star. The hotel is located on a hilltop with panoramic views of Lake Titicaca, mountains, and the city (which looks incredibly picturesque at night).
Despite being just a 10-minute drive away from Puno, Mirador is set in a quiet and secluded spot, so don't worry about getting a good night's sleep. Although the rooms are admittedly quite simple, the fantastic views, warm welcome, and affordable prices make this hotel one of the most popular choices in Puno.
Extra perks? The property has a hiking trail that takes you past ancient tombs and herds of alpacas grazing on the grass.
Classy Choice – Libertador Lago Titicaca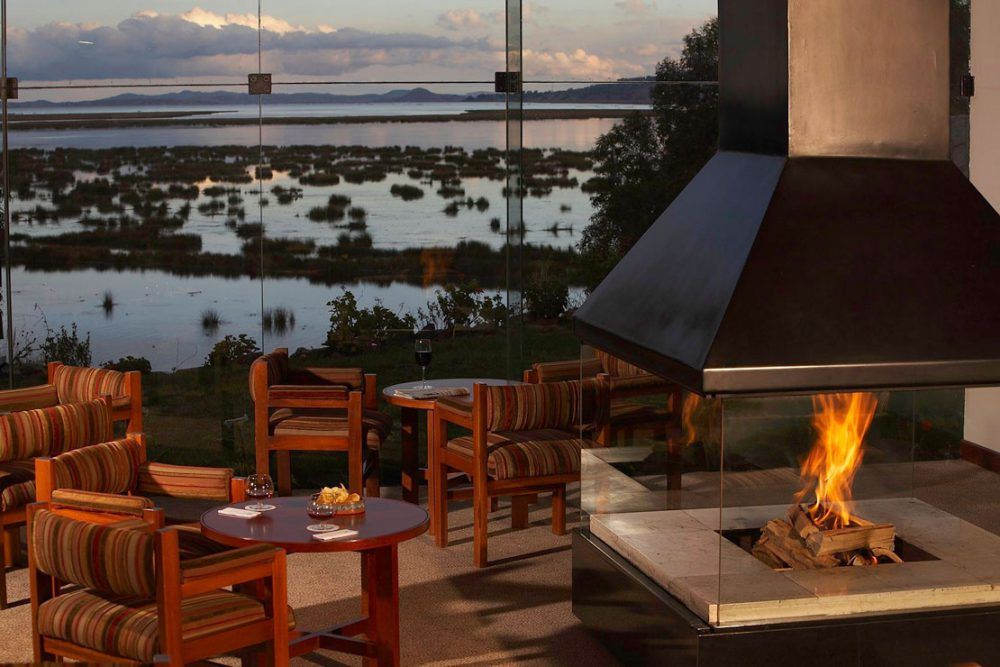 If you want a high-quality hotel experience, 5-star Libertador Lago Titicaca is one of the favorites in the area. They've covered you for the post-sightseeing chill session – the hotel features a spa with a sauna, a small gym, and an in-house restaurant.
But the real highlight here is the location. Libertador is set on a small island just off Puno (connected to the mainland by a road so you can still get a taxi), giving it the most stunning front-row views of the lake.
The rooms are divided into sunset and sunrise options, so there's something for everyone, and all of them feature huge windows.

Whatever you say about Huaytusive, it's an absolute steal. The furniture might have seen better days, and the interior style is old-fashioned, but this is a bargain for a comfortable double room with breakfast (and a good one at that!).
The hotel is right in the center, so it's easy to get to and handy if you're planning day trips.

Comfortable bed, a breakfast buffet, and a private bathroom with a hot shower? Yes, that's still possible on a shoestring budget.
Puma Hostel will not blow you away, but it won't break the bank, either. The hostel is located in the center of Puno, which makes it an excellent base for day trips, but get your earplugs ready because it can be pretty noisy from the road.
Basic knowledge of Spanish can also come in handy here since not all staff members speak English.

STAY IN COPACABANA
One of a Kind – Hostal Las Olas Guesthouse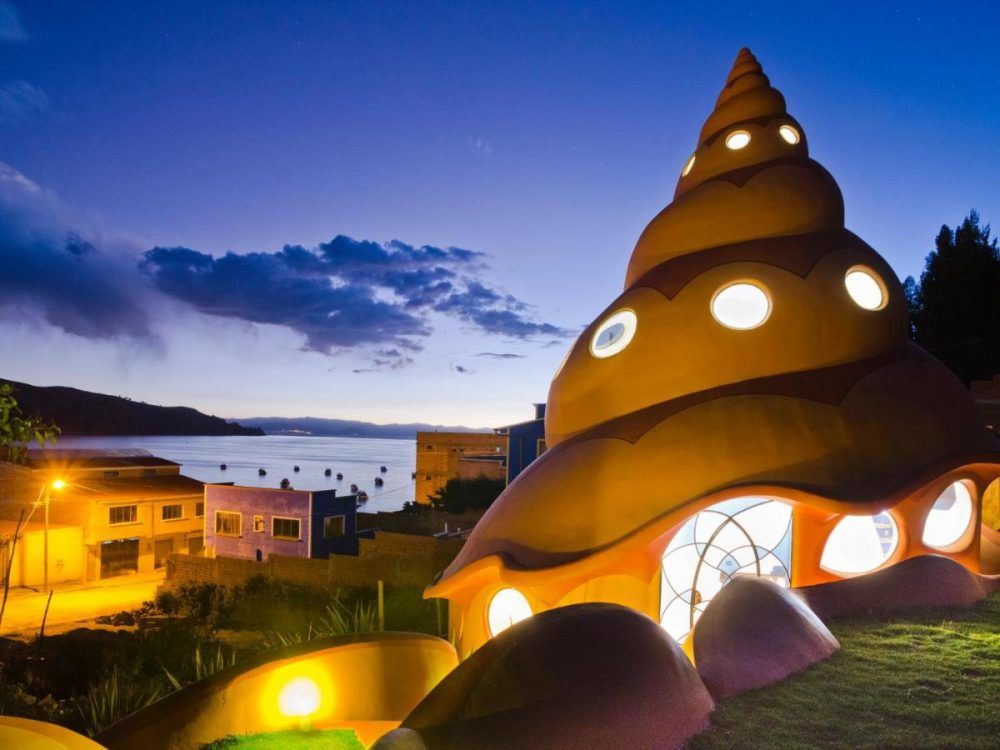 If you look for originality in your hotel, Hostal Las Olas Guesthouse is an undeniable winner in Copacabana. The complex comprises ten unique private villas that come in different shapes (seashell house, anyone?).
Think of a Gaudi-Esque extravaganza of colors and forms; you have Las Olas. The houses were built using mainly natural materials from the area, and the hotel takes sustainability very seriously, so there is no guilty conscience here.
It would be a shame to only stay here for a night with your own kitchen, fireplace, and garden. Hostal Las Olas is an excellent choice for a more extended stop, so you can fully take advantage of the private terrace and chill in the hammock with lake views right ahead of you.

The Romantic One – Hotel La Cupola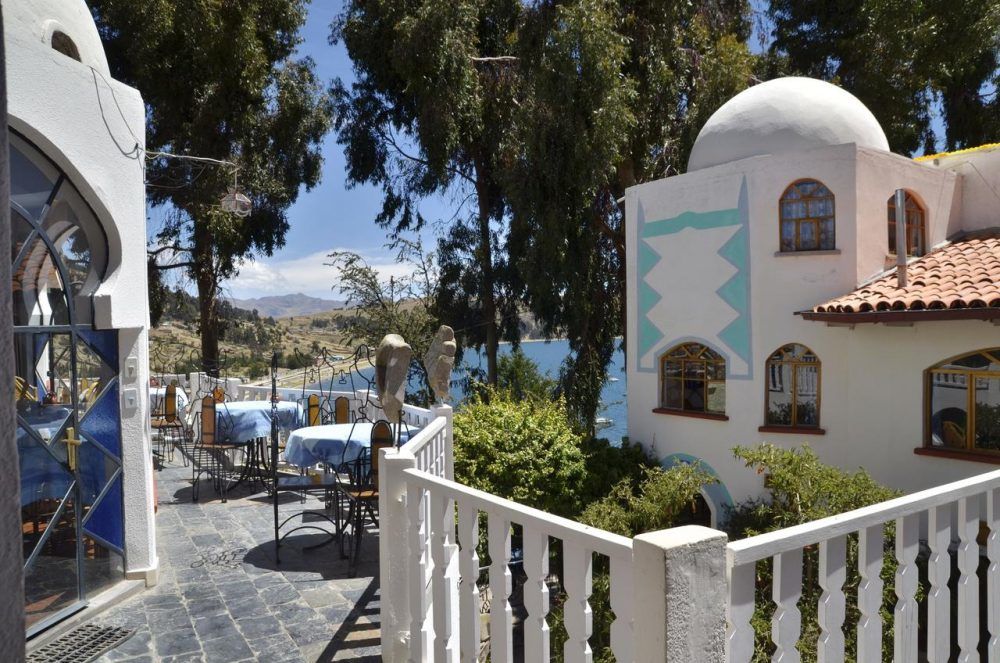 Hotel La Cupola is well-located for two reasons: it's close to the main attractions of Copacabana, and it has an insane view. It is situated on a hill and offers sweeping views of Lake Titicaca, the beach, and the city.
Depending on your room choice, you might even be able to enjoy these vistas right from your private patio (worth it!). While being in the mid-range category, this hotel certainly has a lot of flairs.
The whitewashed walls, wooden furniture, and blue stained glass make for a very romantic and nostalgic combination. You can easily spend an entire afternoon here relaxing in a hammock and taking in Copacabana views.
Luxury Resort – Hotel Rosario Lago Titicaca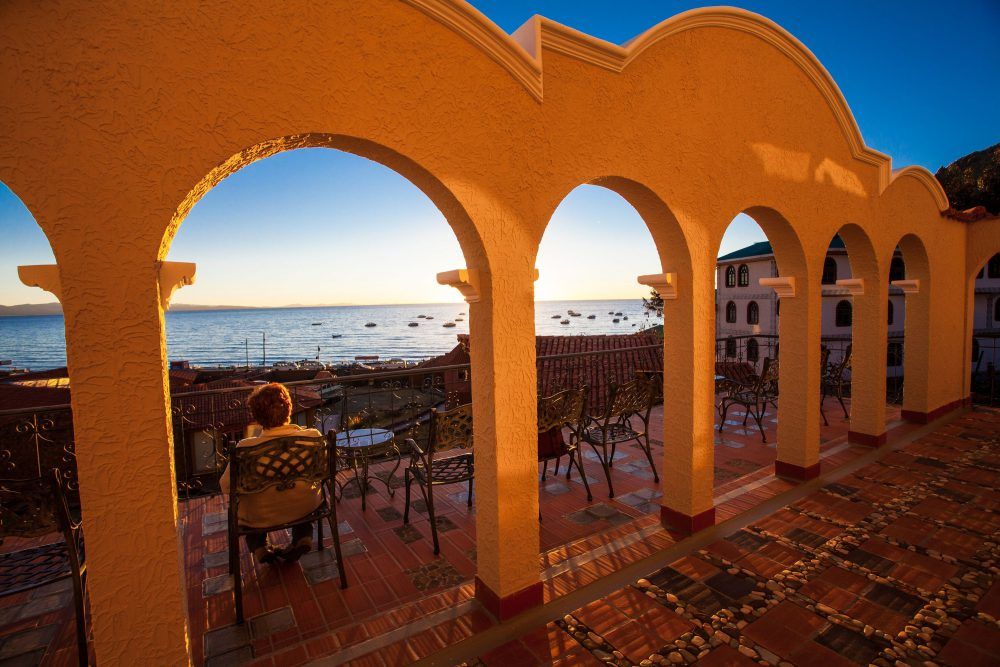 Hotel Rosario Lago Titicaca will get you covered if you want a resort holiday break in your itinerary. Located 2 minutes away from the beach, it has spectacular views of the lake that you can admire from your balcony.
Luckily, all rooms face Lake Titicaca, so there are no wrong choices here. The interiors at Hotel Rosario are spacious and modern but have a Bolivian twist – if you're a fan of local arts and crafts, you'll enjoy the décor here.
And importantly, there's everything here to spoil you after a long time traveling, including gorgeous bathrooms with walk-in showers, an abundance of pillows, and complimentary toiletries (time to stock up for the rest of the road!).

Backpackers' Choice – Hostal Florencia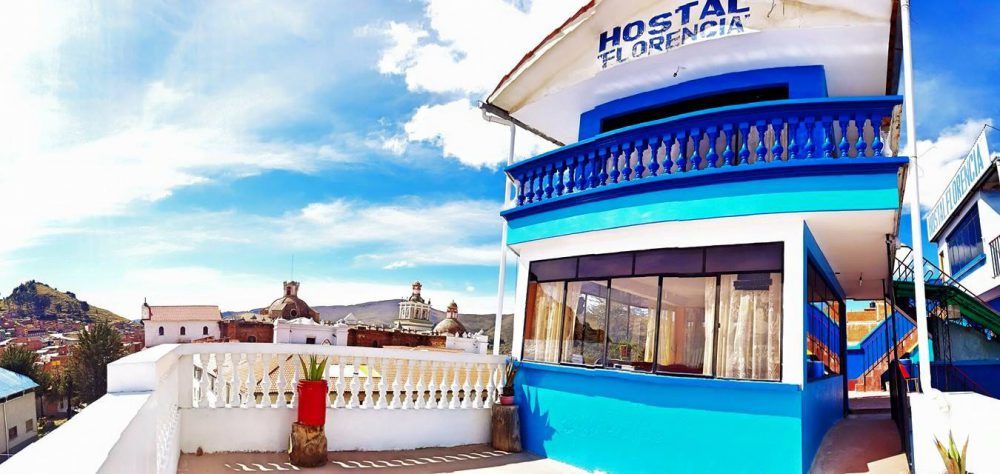 Hostal Florencia is a popular choice with backpackers in Copacabana, and it's easy to see why. For just $20, you can get a double bedroom with breakfast and a private balcony (with a lovely lake view if you're lucky).
Even if you're not one of the fortunate ones with Lake Titicaca right outside their window, you can always go up to the rooftop terrace and enjoy a lovely panorama from there.
The hostel is located next to the Basilica and is only a 5-minute walk away from the bus terminal, making it great to explore the city on a tight schedule.
STAY ON THE LAKE TITICACA ISLANDS
Cozy B&B on Isla del Sol – Utasawa Lodge
If you want 5-star views for a mid-range price tag, Utasawa Lodge is the one. This family-run B&B is one of those where you get a warm welcome right from the start. The rooms are nothing fancy, but they're very cozy, and you can count on a hot shower, wifi, and soft pillows.
Plus, the breakfast spread is generous! Every room has an east-facing lake view, so if you're an early bird, you can watch the sunrise directly from your bed.

Family-Run Hotel – Chaska Wasi Amantani Lodge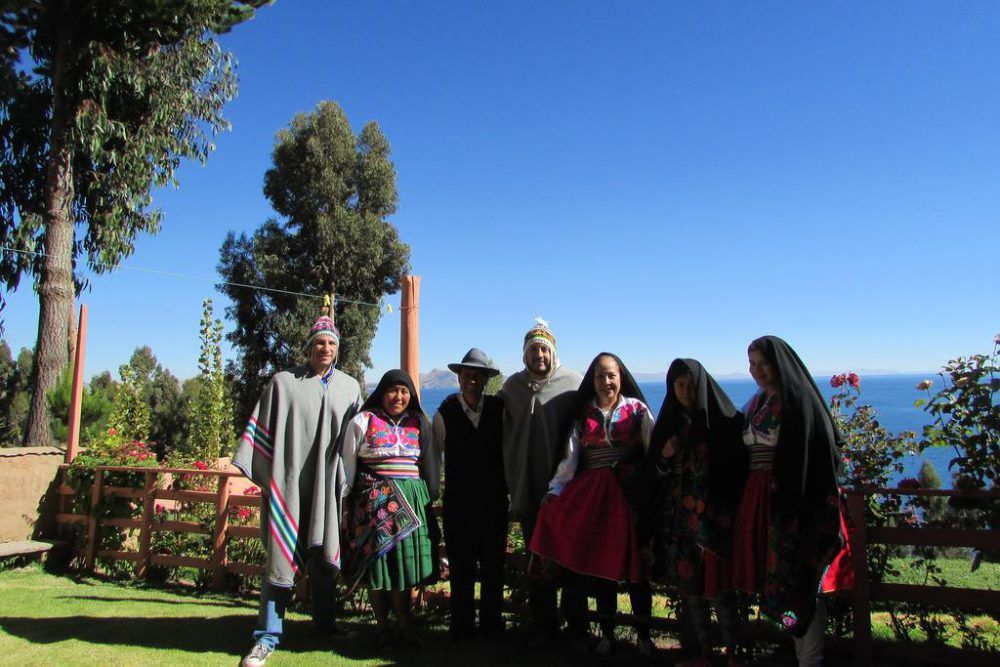 Chaska Wasi Amantani Lodge is a cozy family-run hotel where you're not just an anonymous guest. The hostess will cook tasty Peruvian treats for you, and the host will tell you about the history and customs of the Amantani community.
If you're lucky, they might even take you to a local fiesta for some well-deserved dancing! However, it's probably a good idea to brush up on your Spanish before arrival as the hosts speak limited English.
Family Stay on Taquile – Familia Celso Inn
The only way to experience Taquile without tourists is to stay overnight and enjoy it once all the boats have left. Familia Celso Inn is an excellent start if you want to get to know the local community and their way of life.
You'll have meals with the family, listen to countless island stories, and get insider tips on what to see. The rooms are pretty basic but clean and comfy, and there's a hot shower.
Prepare for total isolation from the outside world – there's no wifi at this homestay, and your data will likely not work (you can treat it as a free digital detox).
Authentic Experience – Uros Titicaca Lodge

Now here's the real treat! Uros Titicaca Lodge is built on a tiny floating island constructed of wood and totora, a plant common to the area. That means that the lodge has 360-degree views of the lake and the surrounding floating islands! And they make good use of them with hammocks, sunbeds, and even a watchtower.
The rooms are kept in the spirit of a traditional Peruvian home with colorful throws on the beds and beautiful hand-woven wall hangings. There are also plenty of authentic Peruvian activities to enjoy. Included in the price, there's cruising in totora boats, kayaking, and a visit to the Uros community, where you can learn local handcrafts.
Of course, staying on a miniature island means you're pretty much stuck, but all meals are included, and the hosts will ensure there's not a dull moment during your visit.
Cozy Uros Lodge – Uros Samaraña Uta Lodge
Nothing to cut yourself off from the entire world like staying on a floating island, right? At Uros Samaraña Uta Lodge, there's no Wi-Fi, TVs, and heating (don't worry, you'll be provided with a ton of blankets and hot water bottles).
All you can do there is enjoy the lake views, immerse yourself in the local culture and maybe take a nap or two in a hammock under the stars.
Like most other Uros island stays, this one is all-inclusive: the transport from Puno and back, all meals, and daily activities are included in the price. So all you've got to do is sit back and relax. Easy.

Luxury Experience Uros – Amalia Titicaca Lodge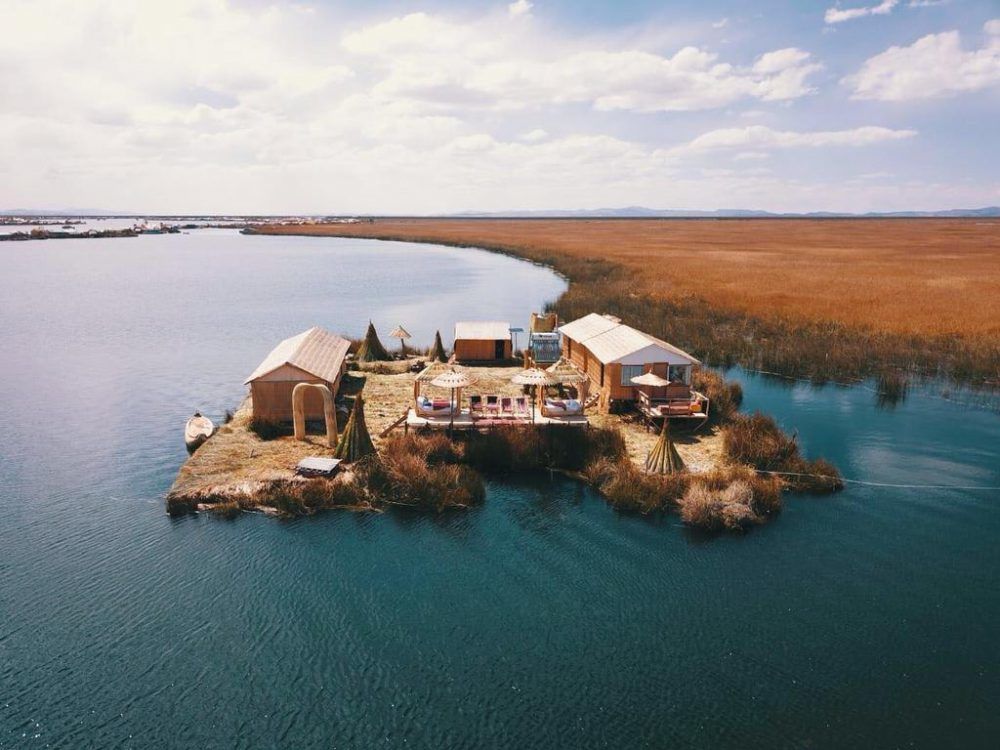 If luxury is calling your name, it's got to be Amalia Titicaca Lodge. It's on a lovely floating island, a little bit off the usual tourist routes. This lodge offers peace and quiet throughout the day.
Despite being called a "king room", your accommodation is actually a private house with an outdoor dining terrace and huge windows to admire the lake.
There are only two houses for guests, which makes the experience even more special. Both are spacious, cozy, and proper fancy – it's almost mind-blowing that you can get such nice bathrooms on a reed island!
Your stay includes a guided boat tour with the host exploring the area and learning about the local ways of life and a sumptuous breakfast cooked by the hostess.